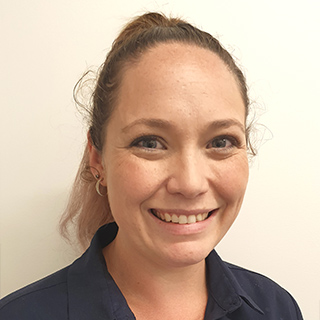 Alicia Scarborough
St Marys and St Clair, NSW, Physio Inq Business Partner
Alicia graduated from Sydney Uni with a Masters in Physiotherapy and after realising that hospital work is not for her and that her passion lies in treating musculoskeletal injuries she began working for the company that would become Physio Inq. After more than 7 years (and 2 children) business ownership was the next step in ensuring a long and satisfying career that incorporates clinical work, mentoring the next generation in physiotherapists and the challenge of running a business.

In Alicia's clinical work she has a special interest in the lower back, pelvis and pregnancy and loves treating the complexities that problems in these areas can lead to. Although when they say "diversity is the spice of life" it certainly rings true for treating clinicians and Alicia loves to treat all pain and conditions that patients come in to see her with.

Continuing to learn and pass on that learning is such an integral part to both being an experienced therapist and a business owner and Alicia is constantly learning by attending courses and learning off her peers. This means that no turn will be left un-turned while she searches for the right treatment for each of her patients and and the patients of her team. Ongoing education is a big part of the Physio Inq culture and one that Alicia strives to ensure all the team are feeling the benefits of.